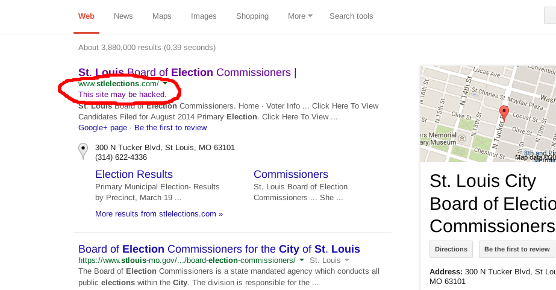 Just days before the August 5, 2014 primary election, the St. Louis Board of Election Commissioners website (stlelections.com) may be hacked according to Google. When clicking on the link, the website appears to no longer be resolving, and shows only a blank white screen. This certainly makes it challenging for St. Louis City voters to "study up" as Mayor Francis Slay urged voters to do in a tweet he made on Saturday before the election.
Voters will find both candidates and issues on Tuesday's ballot. Use the next few days to study up. #fgs

— MayorSlay.com (@MayorSlay) August 2, 2014
While this is most likely an isolated incident on the stlelections.com web server, you should probably avoid visiting website until it appears to be fixed as it could also infect your computer with spamware, ransomware, malware, viruses, or trojans.
Voters can review ballot issues on the Missouri Secretary of State website: http://www.sos.mo.gov/elections/2014ballot/, however information on local St. Louis City election candidates and issues are a little harder to find at this time.