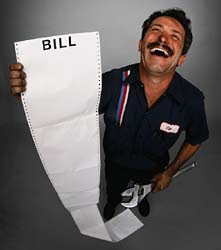 Finding a trustworthy computer repair shop is akin to finding a good honest mechanic. Most people when they bring their computers into a shop have the expectation that they are receiving honest well-informed answers to their computer problems. But unfortunately there are unscrupulous technicians who will invent problems on your computer in order to up-charge you for services you really don't need. One hopes that they are being given honest answers but unethical behavior is pervasive in any industry where there is a naive customer and a dishonest business. You might expect this sort of behavior to be more prevalent at small independent shops staffed by greedy proprietors. So you might be surprised that actually you are at far greater risk of being duped by large companies that pressure their service techs to meet sales quotas and revenue goals.
Just this week OfficeMax was busted by Fox2 News in Boston and in Seattle by undercover reporters who were investigating a complaint made by an employee whistle-blower who alleged that OfficeMax was telling its sales associates to lie to customers about malware infections to drive up the cost of the repairs. He leaked, Officemax pushes each employee to meet sales goals for tech services, and each technician's goals are posted for other employees to see.
"The program itself is mandatory. It's not an option to not run the program. You have to run it on every machine that comes in the building," he said.
When the diagnostic tests are being ordered, Officemax repair technicians are required to ask the customers about pop-ups, computer speed, virus warnings, and shut downs. But even one of the boxes is checked the software automatically returns a possible malware problem.
While asking customers questions about their computer is an important part of the diagnostic process, this gerrymandering of the software is really a sleight of hand to automatically recommend removing malware without actually testing for it in order to generate more revenue for OfficeMax.
OfficeMax may be the most recent company in the news for unethical and dishonest computer repairs, but they are not the first. Other companies such as Best Buy as also been in the news after they were caught lying to customers about unnecessary repairs and employee insiders revealed Best Buy computer techs overcharging, lying, and snooping through Best Buy computer repair customer's personal files. It was revealed Best Buy employees were even trading these files and making fun of the customers personal photo collections.
South City Computer has a core commitment to maintaining the highest standards of ethics, accountability, honesty and integrity with its customers. We have seen firsthand the diagnostic and repair work of the big companies that have been caught, and a couple others that haven't been yet. We've fixed "bad motherboards" with replacement power supplies, we've recovered data when our customers were told "the hard drive is dead." We don't make any assumptions about viruses or malware based on our customer's self reporting. We actually spend the time to test and empirically decide based on industry best practices what we think is wrong with the computer and needs to be done. We recommend the least bit of service that will correct the problem. We do this because we do the right thing. And we can say from what we know about our local independent repair shop competitors is that they pretty much do the same things as us. You are far more likely to be bamboozled and overcharged at a big box store than at an independent local shop because we rely on word of mouth and repeat customers.
South City Computer makes the promise to its customers to do its best to diagnose computer problems and accurately estimate computer repairs, and when it makes more sense to recommend a replacement we do that even if that means we take a hit on the transaction. We have administrative and technical safeguards in place to protect our customers' privacy. Our technicians don't have to look through a customer's file system because we utilize automated computer programs that blindly manage operations on customers' data. Our employees are not paid bonuses or commissions on repair sales because we don't want to incentivize dishonesty. We do not have any minimums or quotas our employees need to reach either.
South City Computer's mission is "Being Awesome!" In order to live up to that we have to be better than the other guys. To us that means keeping our prices fair and not taking advantage of our customers' naivete. You trust us to give you good advice, and it is our promise to deliver the best that we can provide