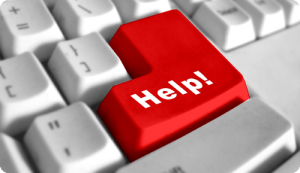 This is a quick check list of simple steps you can do before you bring your computer to us for diagnostic and repair services:
Do you have the Recovery CD(s) that came with the computer. With newer computers there may be a recovery partition on the hardrive. We can order recovery CDs for most makes/models of computers, however its quicker if you have the recovery CDs when you bring the computer in for service.
Bring the power cord for your laptop computer. That is usually the only chord we will need to perform the computer repair. If your desktop computer uses a non-standard power cable, be sure to bring it with the computer.
Have you been backing up your data? We will need to know if you need the data on the hardrive recovered (if possible). It's a good idea to have a backup plan in place. Talk to a our computer technicians about a backup and recovery strategy that will work for you.
What are the problems you are experiencing. While we do not expect you to be up on your "geek speak", be specific and descriptive about the issue(s) you are experiencing when using your PC. Let the tech know the types of software that you are running when the issue occurs.
How old is your computer? Knowing the approximate age of your computer can help our technician identify the version of Windows or Mac OS is installed on your computer, and also which Windows service pack your computer is on. It also will help our technician to discuss with you the benefit of fixing your computer problem, or assisting you to select a replacement computer that is right for you, and then help you to migrate your personal data to your new computer.
Be prepared to pay a fee for our service up front. Most professional computer repair stores ask for money before they begin work. Usually we request you pay for the time it takes a technician to diognose your computer issue and prepare a repair estimate.
Reset your password before you bring your computer to South City Computer if you still are able to. We recommend setting it to something like "temp1234". We respect your privacy and do not need to know your private passwords.

Getting your computer repaired can seem like a daunting task, but taking these few simple steps before bringing your computer in for repair service could make your repair go much faster.