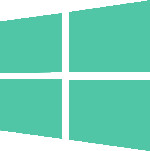 Microsoft announced that they were making drastic changes to their operating system, so drastic that they skipped a whole version going straight from Windows 8 to Windows 10. The software manufacturer has heard enough griping from it's customers about the touch-prioritized Metro design with the live tiles interface introduced in Windows 8 and has decided to remove it in the next release of Windows. They hope to appeal to their user base that has not made the switch to Windows 8 and have stayed at Windows 7, mainly their corporate business customers.
"We want all these Windows 7 users to have the sentiment that yesterday they were driving a first-generation Prius, and now with Windows 10 it's like we got them a Tesla." says Microsoft's Joe Belfiore, corporate vice president of operating systems
Windows 10 aims to be a hybrid incorporating the new-age design of Windows 8 along with the familiar functionality of Windows 7. One great example of this that Windows 10 features is a mash-up of the start menu from Windows 7 with the live tiles interface from Windows 8. Another new feature is Windows will FINALLY have multiple desktops, a feature Linux, BSD and Mac users have had for a long time.
Windows 7 is still the most popular Microsoft OS according to this sites web traffic tracking statistics, Windows 7 could be found on 80 percent of desktop PCs in the past month, compared with just less than 12 percent desktops running Windows 8 and 8.1 combined. Surprisingly less than 6 percent of Windows users are still using Windows XP even though support has been discontinued completely by Microsoft.
Windows 10 is expected to be released to the public in fall 2015. However Microsoft will open up the OS to dedicated beta testers under its Windows 10 Insider Program this month.