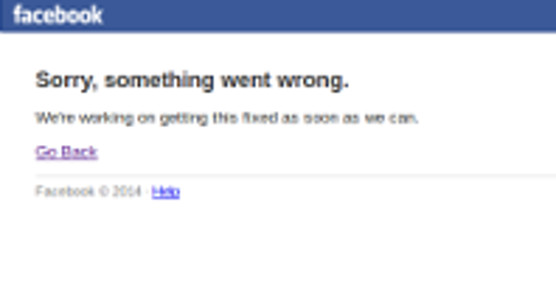 Today, around 11:00am CST tens of thousands of tweets flooded Twitter from London to St. Louis posting the resounding message, #FacebookDown. Twitter users made light of the situation by making snarky tweets such as "You are only on Twitter because #FacebookDown". Or another tweet urged people to go do something else: "Since #FacebookDown go outside and play."
The Facebook outage appeared to have only been temporary for less than 30 minutes. The Facebook website was back up by noon CST on August 1, 2014. However the hiccup to service was wide felt across the Internet.
A quick check during the outage using isup.me confimed the situation earlier today.


The Facebook outage only appeared to have affected the browser version of the application, the mobile interface seemed to function normally during the Facebook outage.
There has been no official statement offered from the companie's Twitter @facebook for why there was a temporary outage to service, howerver Mashable reports that a representative from Facebook issued the following statement: "Earlier this morning, some people had trouble accessing Facebook for a short time. We quickly investigated and are currently restoring service for everyone. We're sorry for the inconvenience."
The companies stock NASDAQ: FB did not appear to be greatly affected only dropping about $1 to $71.58 per share during the service outage.