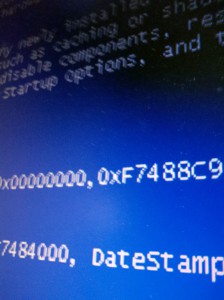 South City Computer offers Windows repair services to the St. Louis metro area. South City Computer can fix all Microsoft Windows versions including Windows 10, Windows 8.1, Windows 7, Windows Vista, and Windows XP. Contact South City Computer for Windows repair services today!
Microsoft Windows is the most commonly used and therefore the most targeted computer operating system and often requires repair and support services. Some of the most common Windows repair issues are the infamous "Blue Screen of Death", "BSOD", or also known as the "Blue Screen", or a black screen and blinking cursor issue and black screen with mouse cursor. Windows can sometimes fail to start and needs service. Sometimes the Windows operating system will only be able to boot into "safe mode" because possibly a system file has become corrupt or was deleted by a computer virus. Another very common Windows issue is that the network connection or the wifi "wireless" internet connection has stopped working and therefore the Internet stops working on the Windows computer. Most computer viruses are targeted at Windows computers since they are the most commonly used. Windows start menu is missing or will no locks up. Windows device drivers also become corrupt or have been deleted and need to be repaired. Windows user profile has become corrupted and can no longer access the desktop. Windows is slow and unresponsive. Windows can get stuck in an update and never boot again.
If you are using Windows XP, you may have noticed that it has become difficult, or impossible to run Windows Update. Microsoft announced some time ago that they had discontinued all support and updates for Windows XP, and that they had officially "end of lifed" the Windows XP operating system. Unfortunately this causes many issues for Windows XP users that still rely on Windows XP because they are invested in software that will only run on Windows XP, and therfore cannot upgrade to Window Vista, Windows 7, Windows 8, or Windows 10.
Windows computer users may notice big user interface changes when moving into the Windows 8.1, or Windows 10 operating system. A new "Start screen", similar to the one on the Windows Phone OS, includes live application tiles which some users find confusing when compared to the classic Windows desktop. While this is not a malfunction of the Windows 8.1 and Windows 10 operating system, it is rather a new feature that can seem confusing to some Windows 7 and Windows Vista users who are familiar with the classic Windows desktop and start menu.
Many of these are common issues of Microsoft Windows and can be repaired by the expert computer technicians at South City Computer. If you are experiencing any Windows issues, and need expert PC repair and computer support services then bring your computer to South City Computer today!