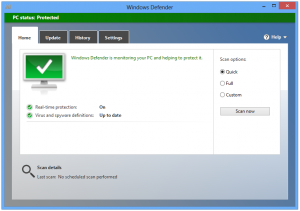 Often we are asked what anti virus software to use? While it is totally preference at this point since most anti-virus software's do the task of scanning and monitoring your computer for suspicious programs, viruses and malware, not all anti virus softwares are free. We usually recommend a free anti-virus software since subscription renewals can be easily ignored, and it is better to have current anti-virus definitions than to have none at all.
Miscrosoft Security Essentials
Microsoft Security Essentials is anti-malware and anti-virus program put out by Microsoft for Windows XP, Windows Vista and Windows 7, but not for the Windows 8 operating system.
The software provides real-time protection and scans new files as they are downloaded or created, and disables detected threats. The software scans the computer routinely and updates the virus definitions database automatically. The software integrates seamlessly into the Windows operating system.
Microsoft Security Essentials license agreement allows home users to download, install and use it on an unlimited number of computers in their households free of charge, so long as each computer has a legitimately licensed copy of Microsoft Windows.
Unfortunately due to its popularity a few malware programs try to impersonate or resemble it to fool users into installing them instead of Microsoft Security Essentials. A few virus/trojan programs disguised as Microsoft Security Essentials called "Security Essentials 2010" and "Microsoft Security Essentials 2011" have appeared on the Internet and closely resembles Microsoft Security Essentials. The virus uses sophisticated social engineering to deceive users into infecting their systems, under the guise of five different fictional anti-malware products. It also terminates and prevents the launch of many popular programs, including Registry Editor, Windows Command Prompt, Internet Explorer, Mozilla Firefox, Opera, Safari and Google Chrome.
If you think you may have a rouge anti-virus software that is trying to mimic Microsoft Security Essentials, take your computer to South City Computer or a local computer repair shop to be scanned for malware.
Windows Defender
Windows Defender is released by Microsoft and started out as an anti-spyware program for Windows XP, Vista and 7, however the most recent releases has expanded to an anti-virus, anti-spyware and anti-malware software and comes as the standard anti-virus on Windows 8.
Windows Defender provides real-time protection and integrates with Internet Explorer enables files to be scanned as they are downloaded to try to avoid accidentally downloaded malicious software. Microsoft Windows Defender does not scan files downloaded with other web browsers like Firefox or Chrome.
Windows Defender greatly resembles Microsoft Security Essentials and uses the same virus definition updates. As a result, Microsoft Security Essentials is not compatible with Windows 8.
There are seemingly new computer viruses created everyday, and while no anti-virus software can protect you 100% of the time, luckily, there are a few free anti-virus programs available that to attempt to make your computer safer.