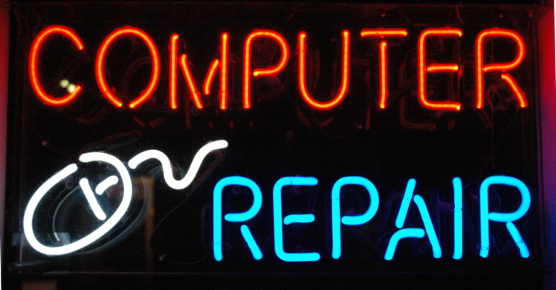 The computer repair industry is a 21 billion dollar industry with almost 60,000 businesses that provide computer repair services. The businesses run the gamut of large computer retailers to IT management companies, to the small local computer repair store in your neighborhood, to the guy fixing computers out of his garage for extra cash. So how can you be sure you are going to get the best service at a reasonable price?
Here is what makes South City Computer different than all the rest:
Small local business! South City Computer is a local independently owned and operated computer repair store in south St. Louis City. South City Computer is your neighbor who can help you with your computer issues and support. Sometimes it is nice to see a familiar face, or to be able to ask for somebody you already know and have a comfortable working relationship. You can expect the same great familiar quality service every time. By choosing to do business with South City Computer you are supporting your local community and helping to provide jobs to people who also live in your neighborhood.
Quick turn-around! South City Computer can usually provide same day to next day service if necessary depending on the complexity of the issue. South City Computer can provide agile service because it is a small business. The fastest most stores can service your computer is usually anywhere from a couple weeks to months. South City Computer understands how important a computer can be to your business or everyday life, and that having it out of commission is not a viable option.
Flat rate service menu! Most computer repair services follow the South City Computer flat-rate service menu. You will know how much your computer repair is going to cost you right when you walk through the door. There are no hidden service fees or expenses. You can quickly determine if it is worth the expense to repair the computer issue or is it time to invest in a new computer. The technicians at South City Computer can give you advice to guide you to make the wisest decision.
On-site and remote repair services! South City Computer offers on-site and remote computer repair services. A technician can come to your house or office to diagnose and possibly fix your computer issue. A computer repair and support expert can also connect to your computer remotely to try to diagnose and fix computer issues without you having to unplug anything. This may save you some time and hassle during your computer repair.
Visit the Technology Bar! Ask an expert South City Computer repair technician a question, seek advice, or have them take a look at your computer, laptop, cell phone or other technology at the South City Computer Technology Bar. Get a quick fix, learn something useful, get helpful advice, or discover an answer to your computer technology question. Schedule an appointment today! The South City Computer technology experts can help!
Free PC Checkups! You probably have gone to your doctor for a physical checkup just to make sure you are doing well, think of the Free PC Checkup as exactly the same thing, but for your computer. South City Computer can give your computer a thorough scan for potential issues or threats, and maybe give it a quick tweak to make it run faster and smoother, all that is for FREE!
Technology News! South City Computer is in the "know" when it comes to technology. South City Computer offers updates and alerts on the latest viruses, trojans, ransomware, spyware threats, as well as computer tips, computer software recommendations reviews, smartphone app recommendations and reviews, computer repair resources, and other interesting tech news from around the world syndicated on the website, in an email newsletter, and on Facebook and Twitter. All this is for FREE!
South City Computer strives to be different than the rest by offering you more value and better friendlier service. South City Computer is your friendly neighbor that can help you with your computer needs. You will recognize the difference immediately when you choose South City Computer.
Tags:
fast turn around
,
flat rate
,
in-home service
,
it service
,
it support
,
local business
,
next day service
,
on-site service
,
remote service
,
same day service
,
service menu
,
small business