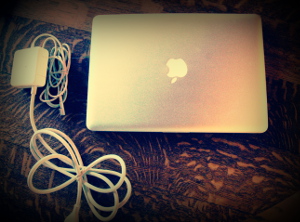 Remove computer from any computer case, computer box, computer packaging, or computer bag. Do not leave us with your computer case, computer packaging box, or computer bag. We do not have room to store this stuff for you.
Remove all usb drives, usb dongles, external hard drives, blue tooth dongles, and any extraneous hardware such as mouse, keyboards, printers, speakers, microphones, headphones, and monitors, attached to your computer or device before dropping off at South City Computer.
Remove all CD/DVD or other media from drives. We can not be responsible for your 2nd season of "Friends" DVD left in the DVD drive so please remove it before dropping it off at South City Computer.
Bring the power cord with your laptop, tablet, phone, all-in-one computer, or device. Most desktops use a standard power cord. Bring it, and the service technician will instruct you whether or not South City Computer will need it to perform your computer repair service.
Ensure your computer is clean and free of food, dust, and other debris. We know that most people eat, drink, and even pick their nose at their computer. Please do not bring us a computer covered in food, dust, boogers, and other unspeakable fluids! We are trying to provide you computer repair service, we are not a computer cleaning service. We will disinfect the computer at the time of drop off, however we do not want to have to scrub boogers and debris from the keyboard and cracks of your computer. If your computer is exceptionally disgusting, we may have to charge you a cleaning fee.
Let us know if you or somebody else is sick and has used the computer or if you are bringing your computer in because you or somebody else vomited on/in it. Let us know ahead of time so we can make special preparations to handle your computer with latex hospital gloves and respiratory masks.
Let us know if you dropped your device into a toilet or other unsanitary conditions so that we can prepare to handle your device accordingly with latex hospital gloves.
Provide the service technician clear and accurate description of your issue. Be sure to include what you were doing when the computer stopped working, any error messages you recall, any strange pop-ups, any strange behaviors or sounds your recall coming from the computer, any programs you installed or uninstalled before the issue started, also if there were any other anomalies such as power outages or electrical storms that could be related to the computer issue.
Provide all passwords and user accounts that South City Computer will need to access the computer.
Let us know if you need the data backed up on the computer. If data needs to be backed up, provide the service technician all files, file types, directories, and file names that you would like attempted to be backed up.
Inform the service technician of any programs you use that put their data files in places outside the Windows user directory such as Quick Books, Quicken, or Microsoft Outlook.
Be prepared to wait for service. Our typical turn around on a computer diagnosis is 2 to 5 business days. If you need expedited service talk to a support service technician about the options South City Computer offers customers who need computer repair service fast! Also, South City Computer Club Members always enjoy concierge services and get moved to the front of the line on most computer repair services. Don't call or email constantly to check the status of your computer repair, this does not speed things up, as we are answering your phone calls and emails instead of repairing computers.
Bring cash, check, or credit/debit card to make the initial payment for service. We cannot begin work on your computer repair service until we receive payment up front.
Please know that we do not offer refunds on any payment you make to South City Computer, even if you choose to forgo the initial diagnosis or other service. If you are professional, friendly, courteous, and easy to do business with, we will most likely offer you in-store credit if you decide to not move forward with a repair, but this is not a guaranteed, and totally up to managements discression.