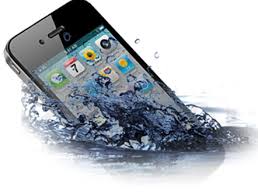 We all know accidents can and eventially will happen when it comes to our cell phones. We all know somebody who dropped their iPhone or Android and broke the screen. You may have even heard of people accidently dropping their phones into a pool, or worse the toilet! So in response to these misfortunate mishaps, South City Computer offers you five great ways to keep your iPhone or Android phone from accidently getting broke. If your phone is broken from water damage or a cracked screen South City Computer can help! Please call us 314-400-7918 or Contact us today!
Water is the worst enemy to iPhones and AndroidsIt's a fact that the most common cause of damage to cell phones is water. People often accidently drop phones into puddles, toilets, and drinking glasses. Keeping your phone away from water is the best way to protect it but for a physical line of defense you can purchase a waterproof case.
Cases really do save lifes..or at least they save phones:
The second biggest reason iPhones and Androids break is that they do not have a case on them. Cases protect your phone from wear and tear, drop damage, and screen cracks. The iPhone has a sleek and sexy design, that is SO sleek it is slick, and can seemingly slip right through your fingers. They are vital for your cell phone's protection. Unfortunately these accidents are all too common. However, if you have a broken screen the techs at South City Computer repair shop can fix it for you.
Don't Jailbreak Your Phone Unless you KNOW WHAT YOUR ARE DOINGEven though jailbreaking your phone might seem like a good idea, the amount of ways you can ruin your device by doing it is innumerable. If you really have the need to jailbreak, be sure you have an understanding of what you are doing, and proceed in doing so with extreme caution.
TOO HOT or TOO COLD :
Forgetting your phone in your car is a very easy and common mistake. However, very hot temperatures like those on the inside of a car during a nice spring or summer day or the opposite frezzing cold temperatures on a cold winters day can ruin the cell phones battery and logic board to a point that the device is irreparable.
Get phone insurance:
Getting phone insurance may sound funny but if you are in areas where your phone has a high chance of breaking, such as a construction site, phone insurance may be good for you. While Apple does not insure phones,traditional insurance companies such as Esurance offers coverage for your phone.
Of course phones will always find a way to break eventually no matter how much you protect them. If you are a customer living in St. Louis City or Lindenwood Park neighborhood, and your phone is broken, please bring it into our computer repair shop for us to give it a look. The computer technicians at South City Computer are more then happy to fix your phone or computer issues. Just call us or leave us a message on our website.
Call: 314-400-7918