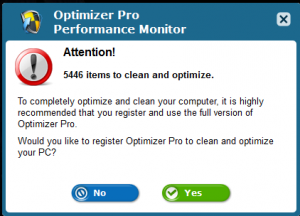 Watch out for a new piece of malware and spyware that has been popping up on many computers that are coming into our computer repair shop in St. Louis this past couple months. Malware is short for "malicious software" and is unwanted software that can hijack certain functions of your computer, steal sensitive information, and can put your personal information and data at risk. Malware is usually bundled with tojans, worms, rootkits, spyware, adware, ransomware and viruses. Unfortunately most malware can be very tricky to remove. The new malware we have been seeing has no easy removal method at this time and reeks havoc on the computer's Windows registry. The Windows registry is the place where Windows stores Operating System and program configurations.
All malware is annoying and potentially harmful to the data and personal information on your computer. You should not continue to use your computer if you believe it has been infected with Malware, and should bring your computer into a local computer repair store like South City Computers for repair as soon as possible.
You should never attempt to download any programs that claim to remove or fix a certain malware program or virus you may have on your computer. Often times these programs just install more malware and viruses on your computer and make matters a lot worse.
You should never interact with malware programs since they are malicious in nature and could cause serious harm to your computer.
Signs that you may have Malware
When you attempt to go to certain "most visited" websites like Google.com, Facebook.com, or check your email the malware will redirect your browser to a malicious website and you can never get to the website you requested. This usually happens regardless of the web browser you attempt to use be it Internet Explorer, Google Chrome, or Firefox.
When you try to uninstall the malware through the Windows uninstaller, the malware will attempt to get you to actually install more malware onto the computer, or takes you to a website to download an "Uninstaller" program.
If you are noticing pop-ups and mysterious program notifications from programs that claim to be "Optimizers", "Anti-Malware", "Anti-Virus", "Registry Cleaner", or "System Repair" software.
Your computer is running slow, and seems to be doing a lot of processing even when the computer is sitting idle.
Your computer will not longer run Windows Updates.
Your computer is unable to run your Anti-Virus software.
Your computer is unable to run an anti-virus scan.
Your computer is unable to update your Anti-Virus software.
Your computer throws missing .dll errors when you try to launch certain programs.
Your computer will no longer connect to the Internet.
Your computer is prompting you for payment information to "fix" your computer.
Your computer will no longer print or communicate to external devices such as printers.
If your computer is doing any of the strange behaviors listed above, or you think that you may have installed malware on your computer bring it to the computer repair experts at South City Computers in St. Louis today.