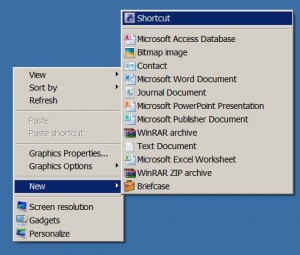 Right-click, new, and…. the folder option is missing? Ctrl+Shift+N but all you get is a quick thinking mouse icon before nothing happens.
Not being able to create a new folder can be very annoying, a big waste of your time, and an almost paralyzing experience in a users computer work-flow. Whether it was a virus that caused it or an Adobe update the result is the same, no new folders.
There is no quick fix to this problem, for the average user, as most of the time it resides in Registry of a computer. This problem stems from this subkey:
HKEY_CLASSES_ROOT\Directory\Background\shellex\ContextMenuHandlers\New\
Editing your registry can cause serious damage to the system and cause many core components of Windows not to work correctly. I would not change anything in the registry unless you create a backup and are very comfortable with it.
DIY Fix
This problem is just a symptom and is most commonly caused by either a virus or the latest Adobe update. The first thing you should do is scan you computer with an anti-virus software. If it comes up clean you can try to uninstall the latest update for Adobe and then reinstall it. If your computer does however have a virus then you will not be able to create new folders until the registry problem is fixed. If any of this was too complicated or you just don't want to risk further damage you can always  bring your computer into South City Computer and we will easily remove the virus, tune up your computer, and fix any problems you have.